Choosing a place to pitch a tent is considered by many to be an easy match. But is it really as simple as some claim? There are in fact many factors that influence the choice of spot to pitch a tent. Two of these things are access to water, where the sun rises, and also things as simple as the surface. Here's our guide on how to choose a good tent site!
Choosing a tent site can take time. But we promise that it's worth it in the end once the tent is there. Sloping ground, sticks in the back, or a scorching morning sun are some points that can easily ruin the good mood, or even worse, scare away beginners!
Is It Allowed To Pitch A Tent?
Before you leave for your trip, you should always check in advance that you are allowed to camp where you plan on doing so. There are many different reasons why you are not allowed to camp in certain places. Some of these reasons are animals, laws, or just rules specific for that area. Nature reserves and national parks usually have their own rules. Always make sure to read these before you make a visit to them! You can usually find them on the park's website or sign placed on site.
If you're lucky, you might even find dedicated tent sites. Although, even though it's usually more fun to be the only one on-site, you affect nature less by using these setup sites. The ground is already trampled down and the risk of disturbing wildlife is significantly lower.
Remember to avoid setting up the tent too close to the trails as you can easily get disturbed during sleep. Believe it or not, but there are people who enjoy hiking during the night and even the morning. And remember to never set up the tent on the trail as some tend to do. You might wake up with a mountain bike on top of you.
Make sure that the surface is dry enough for your tent. Different tents can handle different amounts of moisture coming from the ground. But you should always try to find a spot as dry as possible to minimize the risks and keep the tent as dry as possible. You should also make sure the surface is flat enough so that you don't slide off your sleeping pad.
Also make sure to remove any sticks, stones, and any other pointy object from underneath the tent to avoid getting your tents and sleeping pads punctured. This is also worth doing to get a better night's sleep. If the accident should occur, it may be appropriate to have packed some duct tape or a dedicated tent repair kit to be able to continue the trip without any compromises.
The Environment Around the Campsite
If you suspect that it might start raining, you should avoid pitching your tent below hills and mountains. Rocks do not bind water as some other ground masses do. So a large amount of rainwater will pour down from the height, and the ground will become wet.
However, in the event of sain, make sure to avoid pitching your tent in dells where water might collect. Look at your surroundings before pitching the tent. By looking for extra green spots where the vegetation is thriving, you easily figure out where to not put the tent. These spots are more humid than others. Also, avoid places where you risk encountering dangerous or aggressive animals. It can be an island with a lot of bird nests or tall grass where there may be ticks. Disturbing things such as ants are also good to avoid.
During the warmer seasons, the morning sun can create a not-so-comfortable sauna-like atmosphere in the tent. It affects your sleep badly and should be avoided. Instead, try to take advantage of the evening sun. It gives extra time to do chores in the camp or relax after supper.
In winter, on the other hand, it is a good strategy to take advantage of the morning sun. The evenings are usually so dark that you tend to keep a fire going or you spend your evening inside your tent. The morning sun can thus provide a wonderful extra warmth when you tear down the camp.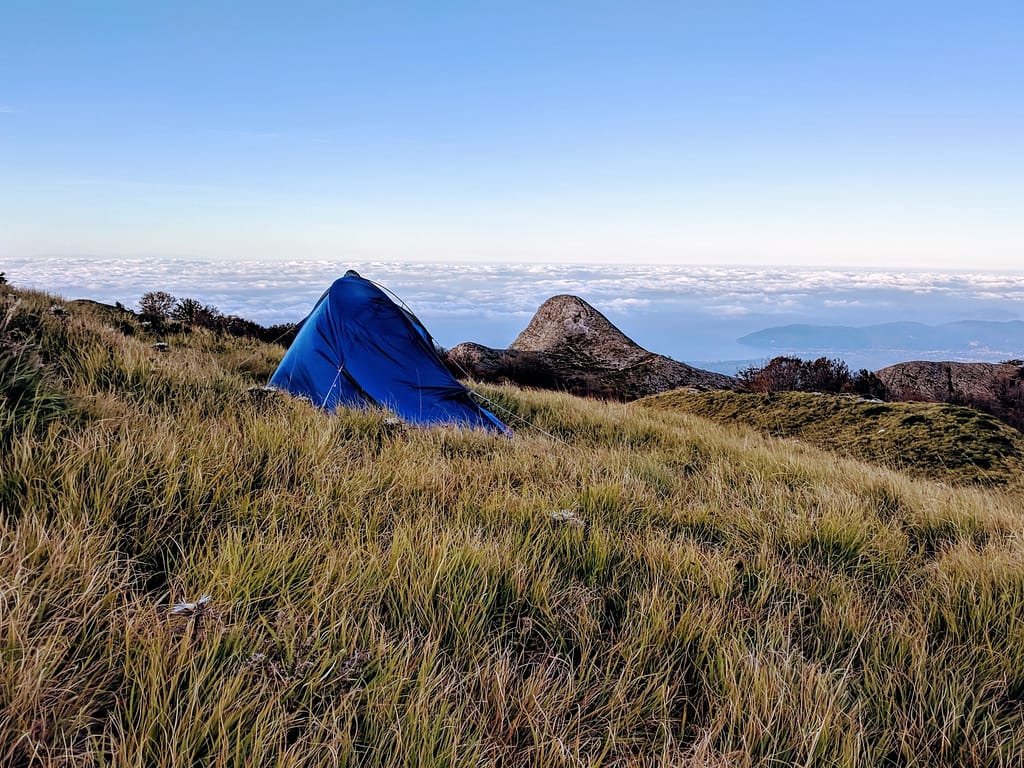 The wind can be both good and bad. Among the positive things, we find that mosquitoes and similar insects do not become as persistent. But among the negative, we find directly life-threatening situations. Especially during winter and in the mountains. If, on the other hand, you camp below the tree line, it is obviously much easier to find shelter. But then you should consider the risk of falling branches and even trees. This is especially important in areas where beavers and termites ravage.
Wind in the mountains can also be a very big problem during the summer. It is then important to anchor the tent a little extra, perhaps by laying stones on the storm lines. But the best way to protect yourself from the wind is to find shelter. Also, be sure that your tent is capable of handling the winds that it might have to face in the mountains because shelter is not guaranteed. On a hot summer day, on the other hand, you can use the wind to your advantage. A light breeze can keep the temperature down in the tent.
In winter, you must have a great deal of respect for the wind. It lowers an already low temperature even further. So finding shelter from the wind is of great importance. But also try to place the tent entrance in the window direction. Make sure to start setting up camp in time. Preferably much earlier than planned if you suspect that the wind might increase. Then you have time to stormproof the tent properly but also call for aid if things get too bad.
Choosing a tent site where you do not have to go far to find proper fuel for the fire is a good idea. You then save both energy and time. But remember to always check in advance to make sure you're even allowed to make a fire. Location, season, and weather can play a big role here.
When you are going to lit a fire, you must always take safety into account. Some spots might be plain bad for this due to fire hazards. Some things to look out for are dry grass, roots, and rocks. Dry grass and roots can spread fires. While rocks can crack due to the sudden temperature change when they cool down.
A good practice is to pouring water around the campfire and keeping some close by to decrease the risk of the fire spreading.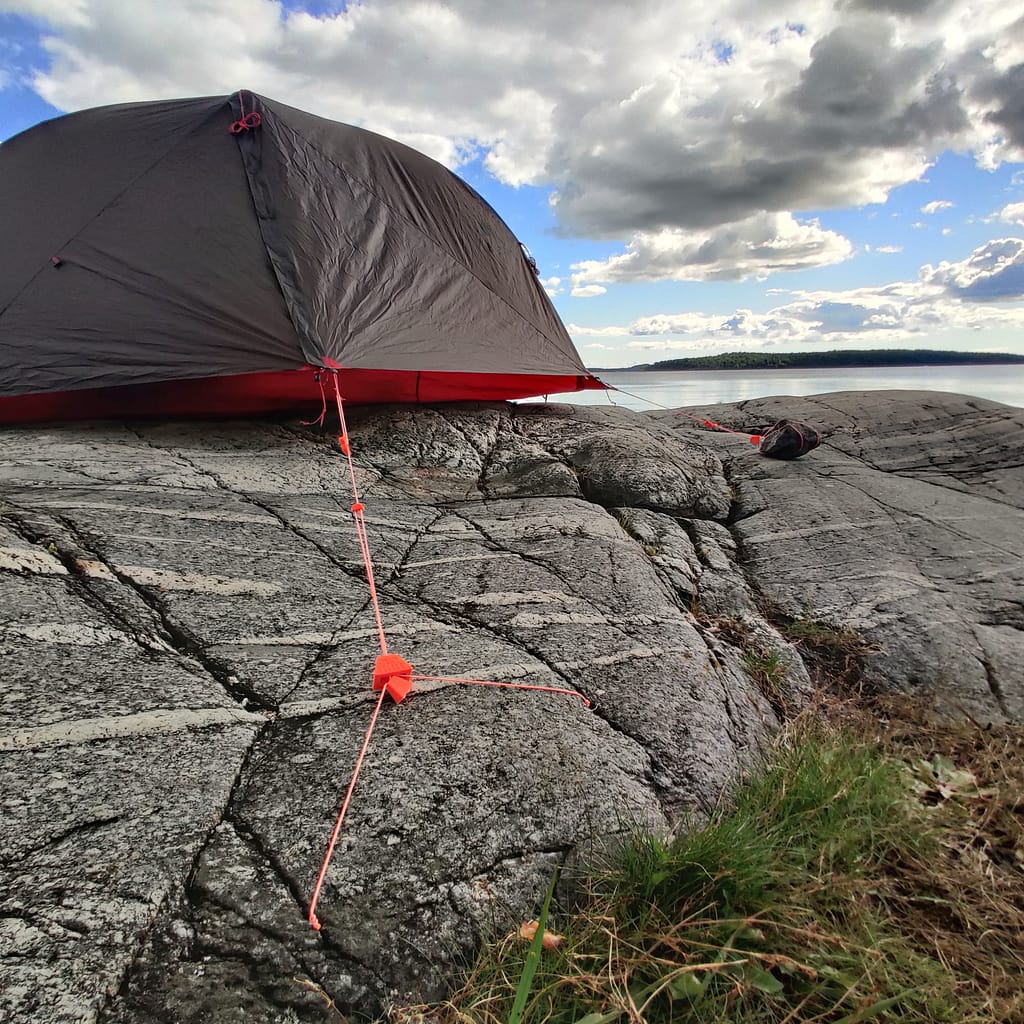 Choosing a tent site close to water has several clear advantages but also setbacks. Two of the advantages are that you can easily refill your water supply (if the water is drinkable), and you can easier put out a fire due to the short distance between the water source and fire. You can also take a refreshing bath in the summer heat and clean yourself.
Some of the minor setbacks are that water tends to make noise (the bigger the water the more noise) and mosquitoes and other insects often lay their eggs where it is moist. One of the major setbacks is the temperature. The air tends to feel colder due to the moisture in the air This is especially problematic during cold weather combined with wind.
This can be a lot to remember. But this knowledge can make your trip much more enjoyable and definitely safer. Some of the information is less important. For example, the sun is just a matter of comfort (in most cases) and sleeping close to a small stream doesn't have to mean insects. But some of it can save lives.
Prepare yourself in advance for the location you're going to visit. Try to put up camp as soon as you arrive at the planned campsite to make sure that you have the time you need to pitch the tent well before it gets too dark.