Have you ever heard about that strange extra floor some people carry around for their tents? That's called a footprint, and it can protect your tent floor from being damaged plus help keep you and your gear dry during harsh weather. But what are the pros and cons of this accessory? Do you need a tent footprint? And if so, how do you choose the right one?
Bringing a footprint for the tent is for some people something obvious as they deem them necessary. But in most cases that's because of their types of trips. You see, a footprint isn't for everyone. They have pros and cons that you have to take into consideration when deciding if you need one. Some which are more important than others.
Why Tent Footprints Are Necessary
Protects Your Tent's Ground Sheet
A strong groundsheet (not ultralight ones) can add extra protection to your tent's groundsheet. This can be very useful if the tent groundsheet is made out of a thin fabric, or if you camping on rough terrain. Waking up a morning with a hole in the groundsheet just isn't worth it! However, many groundsheets are capable of withstanding some bad surfaces.
The tent footprint necessity boils down to where you're planning on pitching your tent and what fabric its groundsheet is. The take picture above for example. The ground was full of small rocks of shark corners which would without doubt cut through the groundsheet in a second.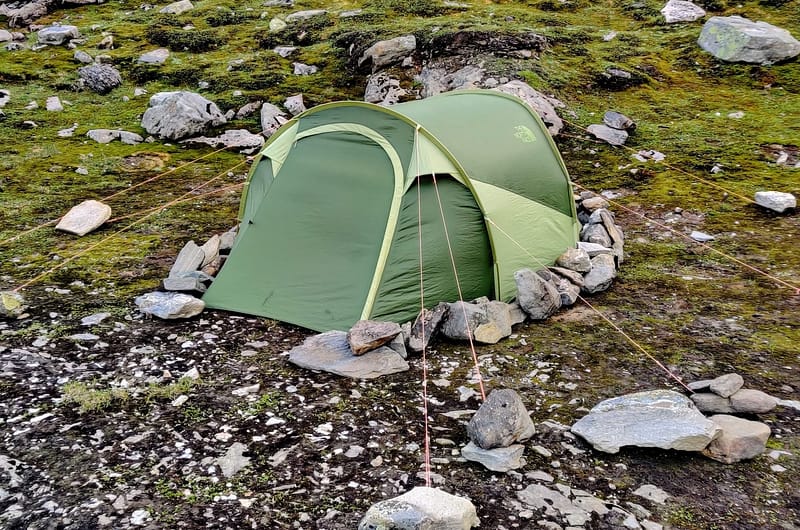 This is without question the best part of adding a footprint! It adds extra water resistance. Some tents have surprisingly low groundsheet waterhead ratings(a.k.a. water column), in which case adding a footprint might be essential to stay dry. It's hard to know exactly how high a water column your tent needs, but a waterhead rating of 10 000mm is a good rule for camping on snow. We recommend that you at least bring an ultra-light footprint if you're using an ultra-light sense they usually have a very low water column for their groundsheets.
The extra layer on the ground can add extra warmth due to two reasons. It can create isolated air pockets between the layers, and create more distance between you can the moist ground. The cold from the ground is something a lot of people tend to forget about, and therefore cheap out when it comes to sleeping pads.
This reason becomes important mainly when you're camping in cold and wet areas/seasons. Adding extra warmth is often not preferred during the hottest days.
Might Add Floor In The Porch
A bit of extra floor in the tent can sometimes be appreciated. During rainy days when you might spend extra time in the tent, it can be nice to not have pale ground on your tent porch. Adding some additional floor can make the tent feel more like a home and help keep equipment stored on the porch dry. However, this might make it tricky to use your outdoor stove inside the porch unless you can fold some of the footprints beneath your groundsheet.
Potentially Easier Pitching
Using a footprint can sometimes save you time. When choosing the exact spot to pitch your tent, you can simply move around the footprint to see where it fits the best. And some models can even be mounted to the ground using pegs. This can really make a difference during stormy weather when the wind is trying to steal your tent while you're pitching it.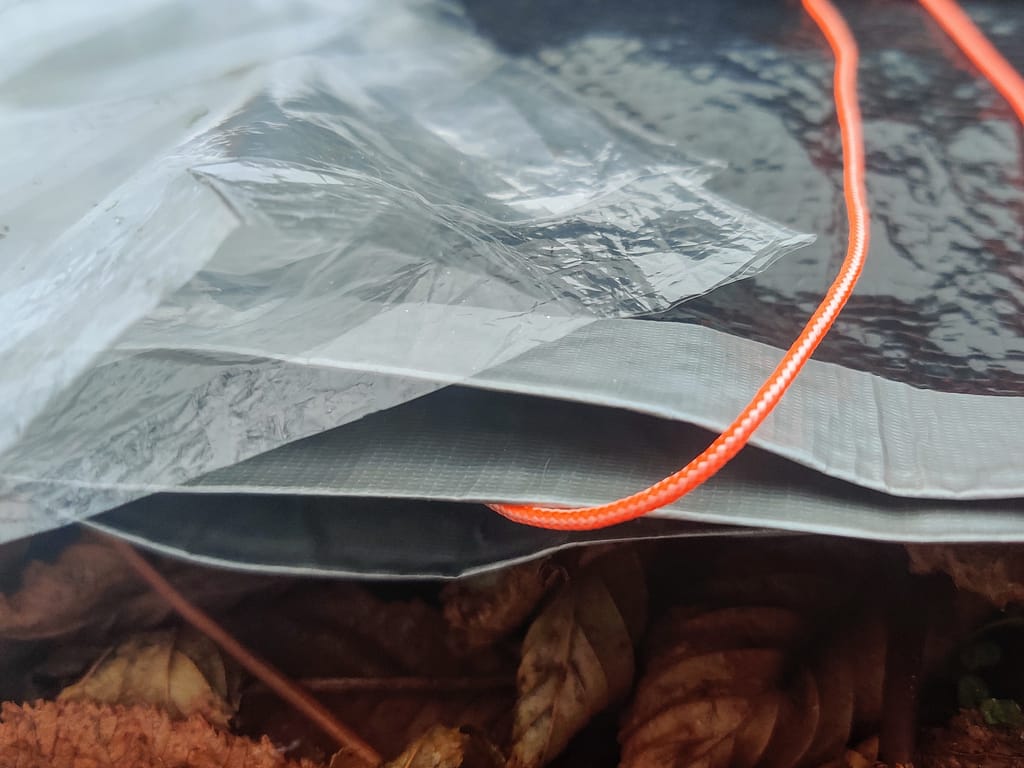 Why You Should Not Use a Footprint
Footprints come in all materials and sizes. From ultralight plastic versions to extra-strong ones made for heavy-duty tasks. For instance, a homemade footprint one of our crew members created for a trip that would otherwise have torn the groundsheet apart the first night. This homemade groundsheet weighs around 350g, but there are of course lighter ones. Like the groundsheet for Nordisk Svalbard SI 1 that only weighs 250g with a water column of 10 000mm on its own. But it doesn't stop there! Some ultralight tents are sold with just plastic sheets are footprints, with the main task to just keep moisture out.
This is something that's already been mentioned. It costs extra, but it's absolutely worth it if you're planning on hiking during wet seasons or in harsh terrain that might damage your tent. It's cheaper to replace a footprint than a tent! Still, feel like saving some money? Just look for universal footprints as they tend to be cheaper.
This one is debatable. Some claim it helps them pitch their tents faster, while others claim the opposite. This likely boils down to the footprints format and the tent's overall solutions. But don't be afraid to skip pitching without your footprint, cause it's not always required and can sometimes be added afterward.
Do You Need A Tent Footprint?
The first thing you should ask yourself is: Are you planning on camping in really wet conditions, during winter or in brought terrain? If your answer is no on all of those reasons, you can likely live without one.
The next question is what your tent's own groundsheet can handle on its own. As we've mentioned, there are tents out there with really tough ground sheets with water columns high enough to handle winter on their own. But there are also tents with groundsheets so thin that pines cones might puncture them.
It mainly depends on you and your decisions. Bringing a footprint is never a bad idea. However, not buying before the originals run out might not be a good idea if you planning on using the tent for a long time.
Choosing Footprint for Tents
When it comes to choosing the right footprint for your specific tent, we got some bad news… Lots of tents out there have no specific footprints available. When new tents are released, there are usually custom-made footprints available to buy for them. However, the footprints are often sold out before the tents and aren't being produced for that long. This means that if you bought your tent two years ago, chances are you have to find some other footprint that fits.
Finding a universal footprint for your tent isn't impossible. It might not fit perfectly nor be as easily mounted to the poles as the correct one might be, but it does the job. Simply browse some outdoor gear shops and you'll likely find one very soon. The most important thing is that it covers the ground beneath the inner tent.
Can't Find A Fitting Footprint
There are some tents out there with somewhat odd shapes and dimensions that don't fit with any footprint available. But don't worry, you can make your own! It can be as simple as a thin plastic sheet. But if you need something stronger, creating one of your own using an old tarp and some duct tape works fine. Feel like going fancy? Buy something fancier like Dyneema fabric or Tyvek.
Hungry for more knowledge? Here's a video that might answer your remaining questions.
If you need a footprint for your tent highly depends on your adventures and the tent groundsheet. Cold, wet, and harsh terrain are the three most important reasons why you might need one. While extra weight is the main reason that speaks against it. We recommend that you carefully think about each and every one of these reasons. Perhaps make a few trips without one and trust your gut when making your decision.
We strongly recommend that you read our guide Choosing Tent Site. It can help you learn more about choosing tent sites and give you more understanding of when a footprint might be a good idea.