Choosing the right outdoor stove can sometimes be tricky due to all the different types. Fortunately, we're here to guide you through this jungle and teach you about the most common types, such as gas kitchens, spirits kitchens, multifuel, and wood kitchens. As well as the different variants of these. Because every type of stove has its strengths and weaknesses. Hopefully, you can make a wise purchase after reading this guide!
The first thing you should do is ask yourself some questions because the need completely detemins what type of backpacking stove is optimal for your individual needs. A tip is to write a list of the types of trips you have done so far, plan to do, and what you expect to eat. Then keep this list in mind when choosing your next outdoor stove.
Where will you use the stove?
Gas is for instance not suitable for extreme cold as it performs very poorly in such conditions, however, petrol/gasoline works excellently for those conditions. High altitudes must also be taken into account, and here petrol/gasoline is a safe bet. When staying in more "ordinary" environments, the other types work well during the warmer seasons of the year.
Are you planning on hiking in areas where access to a specific fuel may be poor? Then multi-fuel is the right type for you! Those stoves can run on several different types of fuel!
Weather and wind are also very important factors to keep in mind when choosing an outdoor stove. If you spend a lot of time in a mountain environment, you can count on a lot of wind. Then a wind-protected stove (storm cooker) may be appropriate. For example, the Trangia stoves.
What size should the outdoor stove be?
The more people you have to cook for, the bigger the storm cooker is needed. This is especially important if you expect to bring children on your adventures so that they don't have to wait too long for the food. But even if you are solo hiking, this is where you can save both grams and space by choosing a smaller backpacking stove. So choose the smallest kitchen, with lower weight, which meets the other requirements.
What type of food are you going to cook?
A slightly larger outdoor kitchen can be an advantage if you are going to cook more advanced food instead of freeze-dried. There are also stoves with Teflon coating that might be of interest in your case. A broader base should not be underestimated either. It can provide stability and make the cooking experience more like at home with real pans. Another feature that can be really nice to have is adjustable gas so that you can control the heat. But if you only expect to boil water for your freeze-dried meal, here you can save both space and weight.
How easy-to-use stove do I need?
During some trips, things just have to go fast. Then it can be a great idea to choose an outdoor stove that offers easy operation. After the 14th day of hiking, it can be nice to quickly get food in the stomach when the tent is set up and not have to spend too much time preparing the stove for usage.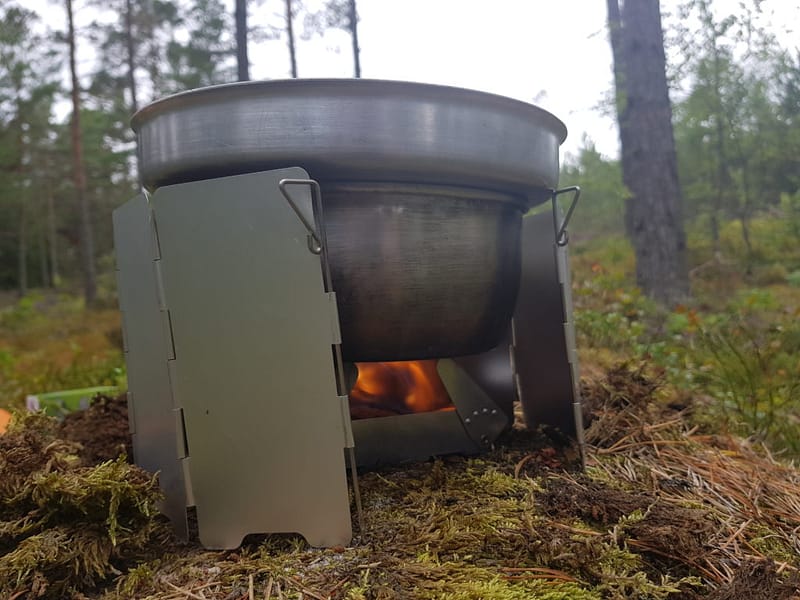 What types of fuels are there?
We have noticed that people tend to spend most time figuring out what field to choose for their outdoor stoves. In some cases, you have no choice, because as we mentioned earlier, you will be severely limited by severe cold, high altitudes, and laws. On other occasions, it is mostly a question of the type of excursion, preference, and availability. Below we have compiled a list of the advantages and disadvantages of each type of fuel.
Gas is one of the most easy-to-use types of fuels. It is also the most energy-rich, which means that a tube of 220 grams is enough for about a week for one person! The downside is its inefficiency at low temperatures. Special winter gas does exist, it makes it possible to use this fuel type during colder seasons, but there are better alternatives if you ask us.
Pros

Cons

Easy to use
Lightweight
Adjustable flame
Fits well inside outdoor pots
Great for advanced cooking
Simple stoves

Expensive
Poor efficiency during cold weather
Lowefficiency at high altitudes
Suitable for
Screw-on stoves
Remote canister stoves
Portable gas stoves
Multifuel stoves
Trangia with gas burner
Alcohol-based fuels are the most environmentally friendly choice, but they lack the energy that, for example, butane gas has. This means that cooking takes longer. And it, unfortunately, shares the inefficacy in cold weather with normal gas. The same goes for high altitudes. However, it is relatively easy to handle. As for the thumb rule, you can think of 1 liter/person/week during the summer and twice the amount in cold weather.
Pros

Cons

Environmental friendly
Quiet while burning
Easy to estimate remaining fuel
The stoves has lots moving parts
Easy to use stoves

Hard to adjust the flame
Hard to ignite
Low efficiency in cold weather
Hard to obtain in some areas
Almost four times as heavy as gas for the same amount of energy
Gasoline is a very versatile fuel that can be found all over the world. However, it is recommended to use chemically pure petrol as it is much cleaner and thus soot less. The other strengths of petrol are its ability to work well in cold and high altitudes, at the same time as it is very energy-rich. A summer week requires about 0.5 liters of petrol/person/week. Unfortunately, the stoves that the petrol can be used in are quite advanced and comes with more risks as the petrol is very flammable.
Pros

Cons

Cheap
Work well in cold weather
Works well on high altitudes
High efficiency
Easily accessible

Easy to use
Smells bad
Has to be reheated and used with a pressure container
Normal petrol quickly soots the stove
Suitable for
Multi-fuel stoves
Gasoline/petrol stoves
Kerosene is one of the more suitable fuels if you are traveling abroad as it is used for everything. However, it is a rather dirty fuel that lacks unique benefits. We, therefore, recommend one of the other fuels.
Pros

Cons

Cheap
Has a high amount of energy
Easily accessible

Easy to use
Smells bad
Has to be reheated and used with a pressure container
Can freeze in cold weather
Quickly soots the stove
Suitable for
Multi-fuel stoves
Kerosene stoves
Perhaps the most romantic type of fuel. With its sound and scent, wood has begun to take up more space as fuel for outdoor kitchens. In the positive column, we find the coziness factor, that the fuel is everywhere and that you can warm up while cooking the food. Contrary to the negative, if it rains, fuel supply and efficiency are limited. But for those who have plenty of time in the woods and enjoy a fire, this option is great.
Pros

Cons

Easily accessible fuel beneath the tree line
Gives warmth
Cozy
Works well in cold weather
Wood stoves that generate electricity
Wide variety of sizes

Rain sometimes means no fire
Sensitive to wind
Requires a constant feed of fuel
Hard to adjust the heat
Hard to use above the tree line
Suitable for
Wood stoves
Ordinary campfires
Emergancy fuel in solid fuel stoves
In this category, you will find the classic Esbit, the small sugar cube-like tablets you light on fire. In recent years, really competent varieties have appeared, including spirits in solid jelly form. This has made these types of fuels more attractive for outdoor enthusiasts. For these fuels, you will find the smallest and cheapest stoves, but also the most inefficient. Unfortunately, you can at most boil a small amount of water in such burners without the fuel consumption becoming unnecessarily high.
Pros

Cons

Low amount of energy
Some of the variants works poorly in cold conditions
Expensive
Suitable for
Solid fuel stoves
Wood stoves
Here you have a real emergency solution. Diesel may be considered to have more disadvantages than advantages and should only be used in emergencies in the absence of other fuels for the multi-fuel kitchen.
Pros

Cons

Quickly soots the burner
Smells bad
Common types of outdoor stoves
Once you have figured out which type of fuel suits your needs the best, it is time to choose the type of burner. You will of course be limited by the choice of fuel, but there's usually some room for preferences when it comes to size and design. Now things like how many you'll cook for, what type of food you intend to cook, weight, and size play a bigger role. Here are the most common types of outdoor burner/stoves on the market…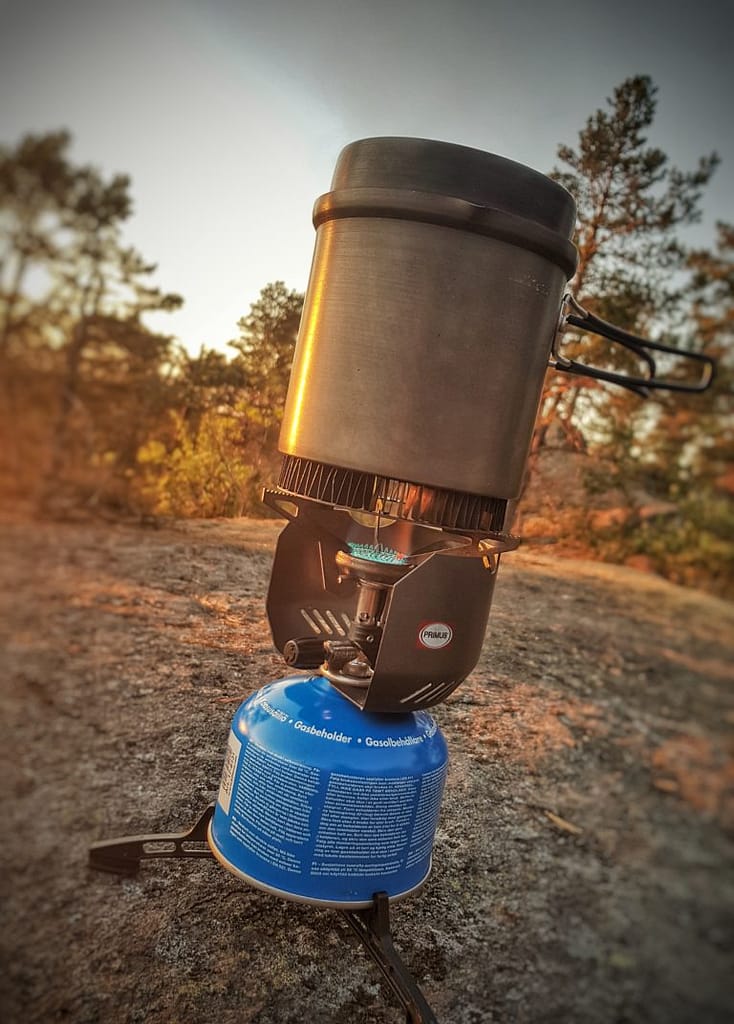 If you have decided that gas is the fuel for you, you need to decide which stove design you'd prefer. Gas stoves come in a wide variety of versions. But there are two main types of gas stoves. Those with screw-on burners and there are remote canister stoves that connect to the gas tube via a hose.
Among the screw-on stoves are several of the lightest outdoor stoves. The disadvantage of the screw-on burners is that they can be unstable as the center of gravity tends to be further from the ground compared to remote canister burners. Therefore, these should be used with extra feet mounted on the gas tube to prevent them from tipping over. On the contrary, the gas stoves located on the ground (remote canister) offer very good stability and enable the use of "ordinary" pots and pans for more advanced cooking.
The gas stoves are very easy to handle. You just screw the burner onto the gas canister or connect the hose to it and then light the stove. Many stoves today also have a built-in piezo lighter (a button to create a spark)! The fact that they are easy to extinguish by turning the gas down to zero further contributes to their suitability for beginners. They are also available in a wide variety of sizes, so it is easy to find one for your specific needs.
A tip when choosing a gas stove is to choose a model with built-in wind protection and a heat conductor. This means that you save propane, but also shorten the cooking time!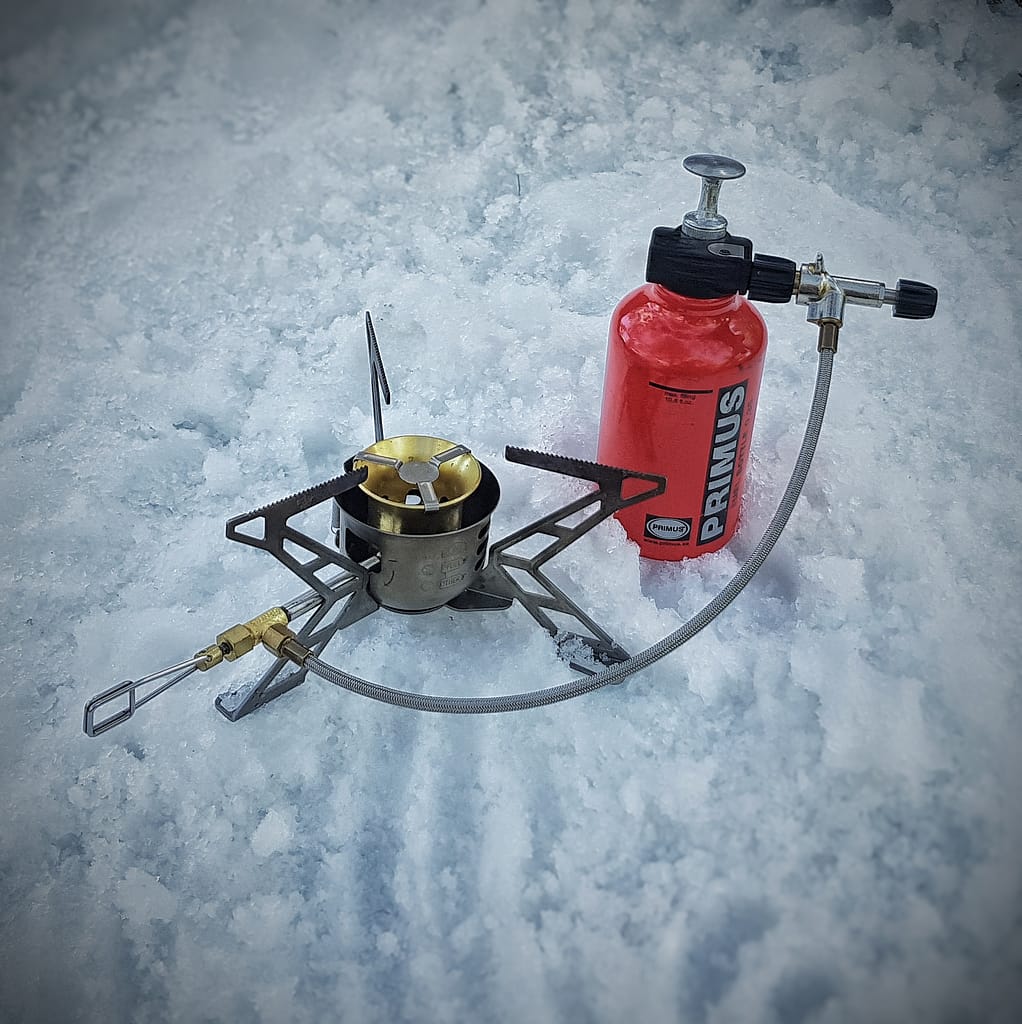 Are you planning trips all year round? Then a multi-fuel stove may be for you. With the possibility of using petrol as fuel, you can use these stoves to cook in the lowest temperatures of all stoves. The fact that the petrol also works at high altitudes makes this the perfect type of stove for the most extreme hikes. It's simply the optimal stove for the versatile hiker who stays out all year and in all possible environments and conditions.
The disadvantage of these stoves, however, is that it requires significantly more maintenance than the other stoves. Some parts need to be replaced after a period of use, which can be complicated and unnecessary for people who rarely plan to use the stove. They also require more work before you can start cooking, this in the form of preheating and pumping pressure in the fuel tank.
Multi-fuel stoves are generally ground-level, but there are odd birds. Here we recommend looking at solutions with built-in wind protection or supplementing with a stand-alone. This saves on fuel and shortens the time it takes to cook food.
Keep in mind that not all multi-fuel stoves handle all fuels. It can differ between the models, especially when it comes to the ability to be able to run on gasoline-like fuels. But as a rule, it can usually be powered with most fuels on the market when you switch to the right nozzle.
Within this category of outdoor stoves, we find, among other things, the classic Trangia stove. It's a storm cooker that most people have probably tried at some point (at least if you are located within the Nordic countries). The Trangia cookers are available with modern gas burners nowadays, but the model for alcohol baes fuels is still a strong candidate among outdoor enthusiasts. Another model that some people may recognize is the infamous "filthy can".
Alcohol baes stoves (like the Trangia) are usually very easily handled. You simply fill the burner with alcohol and then light it on fire using any method (preferably not a small lighter so you don't burn your fingers). They're also usually very affordable, extremely reliable, and have a relatively low weight if you choose one in ultra-light aluminum. Unfortunately, the disadvantages are the difficulty in adjusting the flame and that the burner has to cool down before you can refill it with more fuel.
These burners are a very good burners to start with, as even children and young people quickly become friends with them. You can even grow along with it by buying a more advanced burner! A simple and versatile stove for both simple and advanced hikers.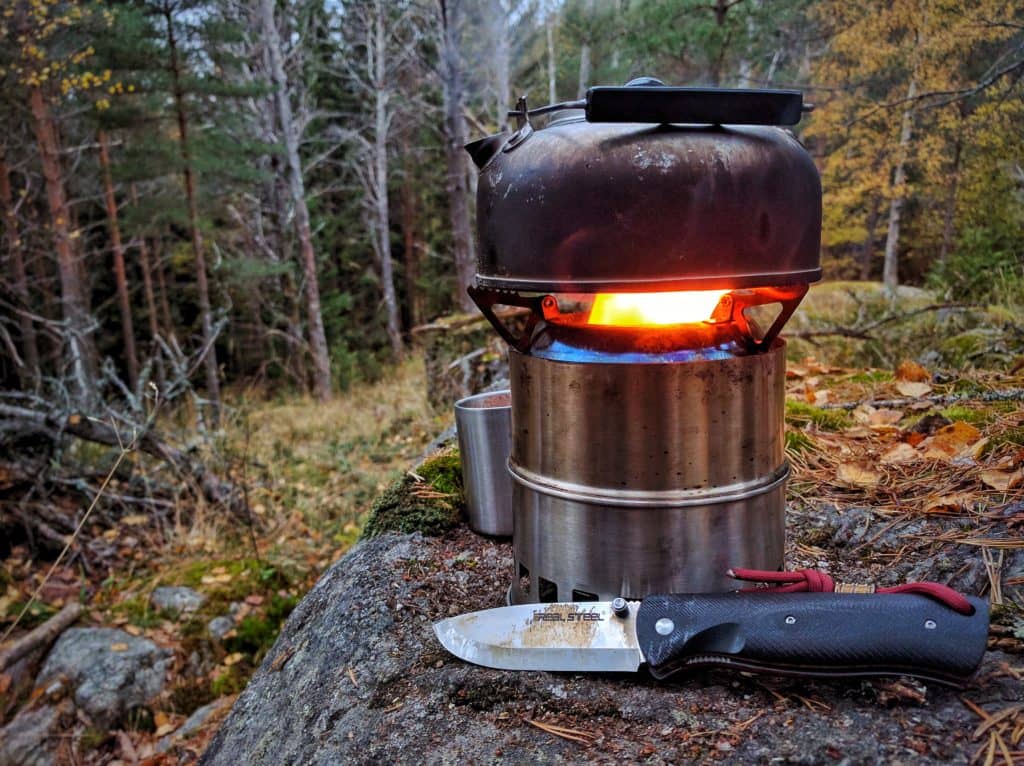 Among these stoves, you can find incredibly cheap outdoor stoves. This is because wood stoves do not require any moving parts, but usually, only consist of a metal container of some sort. However, there are a couple of different models that can be good to keep track of. The simplest stoves are ordinary box-shaped stoves that you make up a small fire in. In these stoves, it is only the usual combustion that heats up the pan, but they tend to be extremely small once they are folded, sometimes so small that they fit right in your pocket.
There is also a more advanced variant that has secondary combustion, these are called wood gas stoves. In these stoves, the gas that is formed when the fuel is heated is also ignited. This contributes to a much higher effect than in the simpler box-shaped stoves. The downside is that these stoves take up more space.
Something amazing these stoves have in common is the use of a more natural fire. They add a little bit of the coziness that a normal campfire does, just in a smaller format. However, the wood burner is not a good alternative for the hiker on the go as it takes longer to use in the form of preparation and has lower efficiency than other types of burners. On the other hand, for the enjoyer who does not want to carry fuel, these outdoor stoves are very strong candidates.
A plus is that many wood stoves can be supplemented with an alcohol burner. You will then have an emergency solution if the weather ever is against you.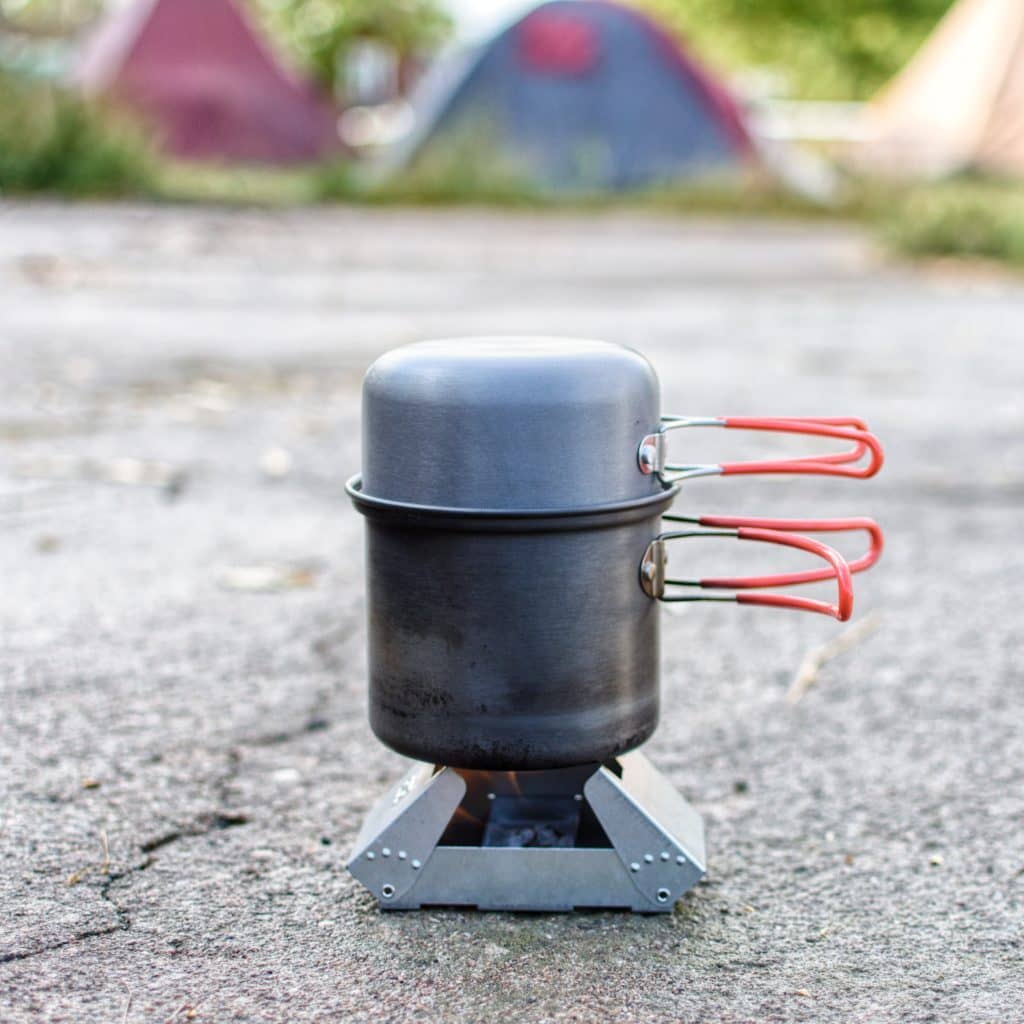 These burners are not so common today, but they still play a role in outdoor life for some people. They take up very little space, but still hold their own fuel for a couple of meals! The downside? The effect is very limited and is best suited for boiling a small amount of water for dried food. But if you intend to hike very easily and only need to heat water for the food, then here is the weight to save.
Previously, Esbit was almost alone on the market with this type of stove, but today there are multiple candidates for both burner and fuel. It's now possible to buy solid fuel stoves optimized for solid alcohol, and the effect in that type of fuel is way higher than in Esbit's old fuels. Worth keeping in mind about is that stoves of this type are very wind sensitive, probably the most wind sensitive of all the stoves we have mentioned. So it is of utmost importance to use these in protection from the wind, either with the help of nature or with a portable windbreak.
After reading this guide, you will probably have a little better knowledge of storm cookers and outdoor stoves. Feel free to use it as an encyclopedia to fall back on for future purchases. And hey, don't get choked if you feel like you need to buy more than one stove. I personally own about 10 variants (yes, they all come in handy due to their different strengths and weaknesses).
But in summary, it's all about how much capacity you need and what environments you'll use the burner. If you have the answer to these questions, the choice of stove/burner is not very difficult.